Jazz Competitions
There are 2 upcoming Jazz Competitions in this Fall. We hope these educational events could be a healthy stimulation to young artists to further work toward their goal, and also for the music fans, this could be a chance to know how young artists strive for the better music. "Better" in their own artistic sense!
Wa meets jazz, jazz competition
Together with Star Bridge Factory, wich organizes annual Wa Meets Jazz Festival , Artist Green is hosting a Jazz Competition in October.
The winners will be sponcered to participate Jazz At The Red Dot Workshop in the summer 2019. Join us for the competition! Click here for the detailed info.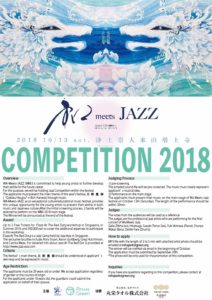 Singapore International Jazz Battle
5 finalists for the Solo and Group Division, including musicians from Thailand, Indonesia and Singapore have been selected. They will perform for the final competition starting on Sep 20th. There also will be holding a forum to discuss the future of Jazz, Improvised music especially in Asia. Artist Green is a part of this forum and also a judging panel.